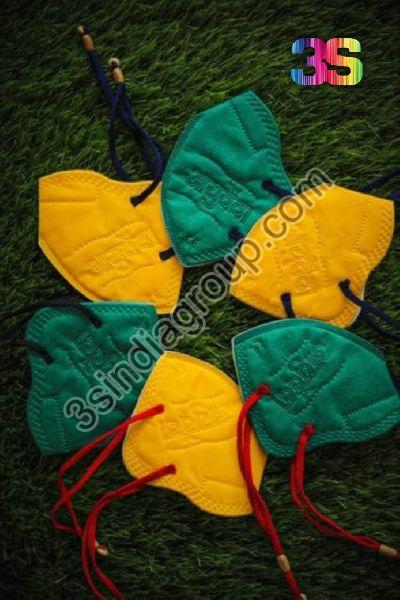 The practise of wearing a mask in a pandemic situation has become the most common in every corner of the Earth. Masking up has been made an inevitable accessory, by this virus, for all. There are numerous reasons why wearing a mask all the time when one is outside is compulsory. This has become an inseparable part of the lives of doctors and every medical worker and practitioner.

The main purpose of wearing a mask is to stop the further spread of the coronavirus or any disease if a person is infected with it. The medical front line workers wear a mask to not get contaminated with the disease while treating the patients, but along with them, the common people are also under the same threat of getting infected by the virus and are therefore asked to maintain each and every protocol, including wearing a mask.

N95 Mask
The N95 is a protective face mask that contains a filter made of a fine mesh of synthetic polymer. The number 95 denotes that the mask can filter out 95 per cent or fewer airborne particles and also any kind of splashes that might contain viruses or bacteria. The N95 mask allows the oxygen molecules to pass through freely so that the person wearing the mask can inhale proper.

The N95 mask should be handled properly. It should be preserved in a container after use so that any kind of contamination can be avoided. According to the expert protocols, a N95 mask should be worn properly. The user should ensure that the mask is held in the right place covering the nose and mouth throughout. After use, it should be placed in the container without delay.

It is always suggested that this face wear should be preserved in an air-permeable and clean container like a paper bag. While using an N95 mask, it is recommended to wear it clean. If it comes in contact with the hands accidentally, the hands should be washed without fail. This face wears can wear a maximum of up to 5 times. Any torn, damaged or contaminated N95 mask should be discarded.

Ayurvedic N95 Mask
N95 masks are made up of non woven fabric materials. There are various companies that are engaged as N95 ayurvedic face mask manufacturer in India. These masks are made of 6 layers. These layers are comprised of 25 GSM, ayurvedic 50 GSM non woven layer, 25 GSM (99.9), 25 GSM non woven layer, 25 GSM (99.71), 60 to 80 GSM non woven layer.

They provide different various flavour variations like holy basil, mint, turmeric, eucalyptus, camphor etc. The ayurvedic face mask helps easy breathing. It also helps to keep the breathing airway clear. The Ayurvedic masks help the person suffering from headaches and a blocked nose. It also provides comfort from chest congestion, cough and cold. The N95 ayurvedic face mask manufacturer in India ensures these are antiviral and allow fresh and clear breathing.

Conclusion
The face masks are now considered as protective gear that is used for both medical and personal using purposes. In this ongoing pandemic situation, the demand slope for these face masks is showing a steeper rise. Hence the companies that manufacture and supply these N95 face masks are offering this product at a highly competitive price so that every single person can afford these for having a protective shield from coronavirus.
This entry was posted on July, 23, 2021 at 11 : 15 am and is filed under N95 Masks. You can follow any responses to this entry through the RSS 2.0 feed. You can leave a response from your own site.